customer testimonials 
Here are some of the reviews from our lovely customers. 
The quality of her products along with the message they send are beautiful. 💕 Also thank you so much Brookelyn for changing my order from a white shirt to this beautiful pink she dyes herself; you are amazing! 🥰 — Hsyvenk, CA
This print is truly one of a kind and I love it! It is exactly as described and it came beautifully and carefully wrapped with a handwritten note.— Nicole
I LOVE IT! This scarf is absolutely beautiful! The creamy colour is a great neutral that goes with EVERYTHING! It's so incredibly soft that I never want to take it off. I love knowing that someone hand stamped this piece just for me. It makes it that much more special. 10/10 would recommend! — Melanie Da Silva, Canada
I get compliments on this shirt all the time!! I wear it for breast cancer awareness to support my mom! I can't wait to get her a shirt, she's loves seeing me wear it!💓. 
— Katie Yanez, Cedar Park TX
I love this shirt so much! It came with the sweetest handwritten note, which I loved. Amazing shop- will for sure buy again! 
— Sarah Gallik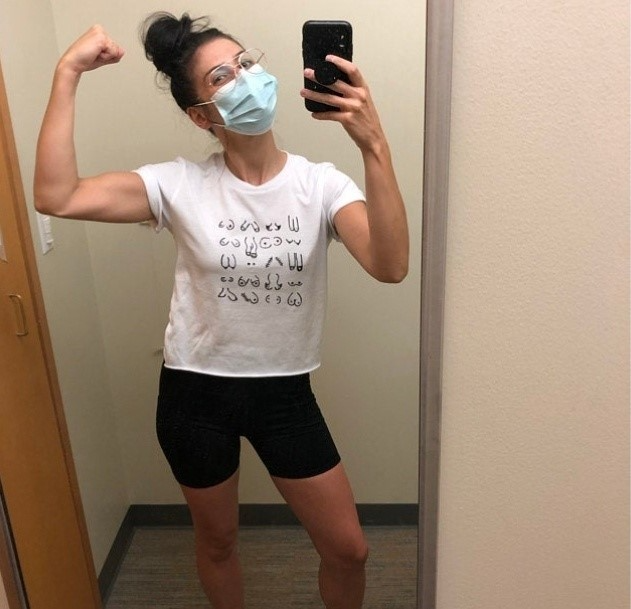 End to end fantastic buying experience - high quality product from a wonderful business owner. My shirt arrived just in time for my first radiation treatment! Thank you for all that you do, Brookelyn!  —Lisa March, Seattle WA
What a nice surprise to finally get my mailed Delivered today after a very trying last week! I freaking love this shirt so much! It's perfect, as we all are no matter shape or size just like the tee states😉 Boobies in all the varieties they were created in 🙌🏼 Seller had great communication for ordering and also regarding the delay on my end from postal service due from the fires here🥺 THANK YOU ,THANK YOU!
— Marie Borges Flores, Patterson CA
This shirt means so much for so many reasons. I love everything about it! You are such a force.
— Sarah Gallik
My breastfed babe recognized whats on the shirt right away. :) I love it, the shirt is so soft . Customer service was excellent. My mailman put the package on the wrong slot so we thought it was lost. She was quick to respond but luckily everything worked out since my neighbour had the package.
 —Melanie Da Silva
Love my boob scrunchies! They look so cute with space buns, regular buns, or just chilling on my wrist. The seller was so kind in providing an additional scrunchie due to sending the package a bit late - but I didn't mind and it was a lovely surprise. Thank you!
— C. Graham, Troy MI
I wish all of my Etsy purchases were through this seller. The product, costumer service and presentation was just stunning. She allowed me to purchase this crop tee without being cropped. It was a gift for my Nana, who has been struggling with her mastectomy and she LOVED it. She wore it the next day to her doctor appt. and the staff even took photos of her in it. Just warms my heart!
— Jordan Weathers, US
I've had my eye on this store for a while, and I am SO glad I purchased! The scrunchie is great quality and really soft and comfortable. Also the packaging was beautiful! Would definitely shop here again!!
 —Maggie Ford
Brookelyn is the absolute best! She responds quickly to messages, and the quality of the t-shirt is wonderful. If you follow her on Instagram you see how hard she works... thank you!
— Desert Fig, Fort Collins CO
So beautiful! Plus it's baby approved. My 3 month old smiled at it when he saw it. 😂🥰
— Keelin Kelly, US
I loved my white one so much I had to get the black one! So cute! And Brooklyn is so wonderful to deal with! Can't wait to see some of the new items coming out.
 — Crystal Oystrick
Such an amazing experience! Seller was so patient and answered all my questions in a timely manner. When I finally received my order I was blown away by the little touches and hand written note. Everything was packed with care and so beautifully handmade. I can't wait to shop, again. Thank you for everything!
—Jillian M, Las Vegas NV
I love everything about this tee from the message, the fabric and how it came carefully and beautifully packaged with a handwritten note. The size guide was perfect in helping me select the right size of tee.
— Nicole
I absolutely loved the tees that I bought. I had messaged the wonderful artist asking if she'd be able to expedite the shipping so I could have the Booby Equality shirts for a breast cancer awareness walk, and she sent them over right on time. I purchased 5 shirts and everyone loved them. The time and care spent on each item and on the beautiful packaging was noticed and appreciated. Thank you!
 — Danica Yamamura, Santa Barbara CA
milkysands went above & beyond for my order! i ordered the boobie equality tee in white, it came out beautifully, i LOVE it! but, they also added a piece of art for a small delay in shipping (i didn't even notice there was a delay!) and a hand written note, which i appreciated greatly!! how often do you get a handwritten note from a seller, folks!! i lovelovelove everything about this shop & cannot wait to purchase something again! <3
—Kaylee M
First of all, this shirt is BEAUTIFUL. I love that it is hand stamped and you can tell you are truly wearing Brookelyn's art. The quality of the shirt itself is also unparalleled. It is so soft and cozy. I requested the longer cut and it fits exactly how I was hoping. Second, my shirt arrived with some damage from shipping (not her fault! It just got really roughed up in transit) and I messaged Brookelyn letting her know that I was going to try and get the stain out, but it might be permanently damaged. She was lightning fast to respond and let me know that she was happy to ship me a second shirt if the stain didn't lift. After a couple of attempts, she shipped me a new shirt. Brookelyn, thank you. I know that cost you extra shipping, product, and time. I won't forget it -- Customer for life.

— Alex Alexander
I love everything about this tee from the message, the fabric and how it came carefully and beautifully packaged with a handwritten note. The size guide was perfect in helping me select the right size of tee.
 — Nicole
Actually stood in my kitchen for an hour telling my roommate's boyfriend about how precious & adorable you & your products are. 10/10 always & forever.
—Azacting Girl
Delighted with my beautiful handcrafted print! Now I just need to decide where to put it up, because I want to see it everywhere. This is truly the softest T-shirt ever. So cool that it's partially made from recycled bottles! I had been eyeing this one for months and I'm so glad I finally got it. My 9yo is already angling to appropriate it, so I will probably need to buy her one of her own!
— Sarah Wong
I love everything Milky Sands makes! Beautiful and cool. I've purchased two items so far and I'm working my way down the list.
 — Alexandra Soderstrom